Why Cancun is the Next Real Estate Investment Jewel?
Why Cancun is the Next Real Estate Investment Jewel?
Boosting investment potential in Cancun's tourist attractiveness
There is no doubt that Cancun is a real gem in terms of real estate investment. It attracts a constant flow of tourists from all over the world, giving life to a dynamic real estate market that has shown great potential. Thanks to the attraction of both national and international tourism, the demand for accommodation and services is constantly growing, making Cancun an ideal place to invest in properties and other real estate projects.
Cancun, known for its dazzling beauty and tourist attractions, is emerging as one of the most promising destinations for real estate investment in Mexico. The continuous arrival of national and international tourists has generated a sustained demand for diverse services and properties, thus consolidating Cancun as a high-potential real estate market.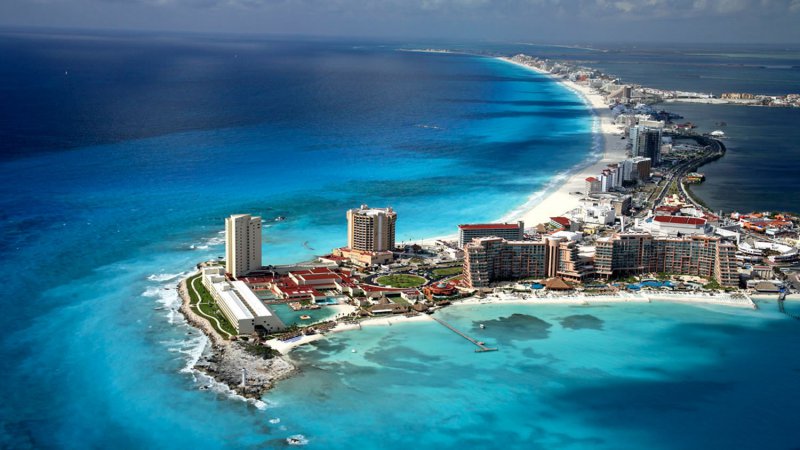 Current Infrastructure Structures: The Nichupte Bridge in Cancun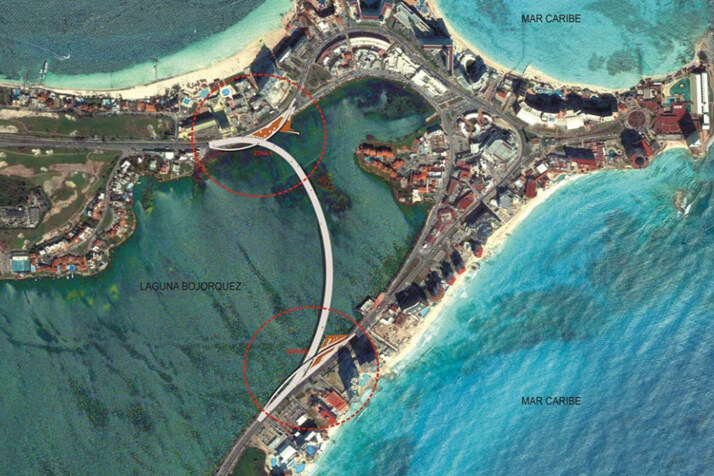 The Nichupté Bridge is a perfect example of how infrastructure investment in Cancun is driving its growth and attractiveness to investors. This capital infrastructure project, a direct response to Cancun's steady growth and development, is designed to facilitate and improve mobility in the hotel zone. As a result, it not only improves the quality of life for local residents, but also enhances the tourist experience, further stimulating the local economy and real estate market.
Importantly, infrastructure projects such as this can significantly increase nearby property values, making real estate investment in the vicinity a smart and potentially lucrative move.
Patricia Mora Vallejo, president of the Mexican Association of Real Estate Professionals (AMPI) Cancun section, highlights the dizzying growth and unprecedented opportunities the city offers.
Referring to the new Nichupté Bridge and other projects, she forecasts a promising future for Cancun's real estate market. The expectation of 30 new hotel projects, with a total of 8,500 rooms and an ambitious goal of 2,000 hotels by 2030, reinforces the expansive dynamics in the region. In short, the real estate market in Cancun is experiencing unprecedented growth, with endless opportunities for investors and developers.
Boulevard Colosio
Following the thread of major infrastructure, the Colosio Boulevard represents another major advance for the city of Cancun. This important road corridor serves as a key artery for the city, connecting different regions and facilitating convenience and efficiency for residents and visitors alike. In addition to its practical functionality, Boulevard Colosio has become a focal point for new construction and real estate development, driving economic growth and real estate diversity. By investing in properties in this area, investors benefit from both the Boulevard's strategic function and its growing appeal as a residential and commercial destination.
The Source of Opportunities: Various Profitable Businesses in Cancun
Related to Tourism
Enjoying the sun, sand and sea is something visitors from all over the world crave and Cancun offers it in abundance. This, coupled with the area's rich culture, interesting cuisine and friendly people, make Cancun a coveted destination. As a result, businesses that focus on catering to tourists thrive here. Tourist guilds, souvenir stores, and vacation rentals represent some of the most profitable business opportunities in the tourism sector. Each of these businesses takes advantage of the large influx of visitors to generate profits, providing a steady source of income for investors.
The government's commitment to infrastructure, including the Mayan Train station and the modernization of the federal highway and the Nichupté Bridge, is a crucial factor that will drive real estate activity in Cancun. With strong diversified tourism demand, including business travelers, families and long-term visitors, the city guarantees a high occupancy rate. Cancun's current outlook is a clear indication of its bright future in real estate.
Cancun is a destination that promises exciting investment opportunities and sustained growth in the real estate market, backed by its unique geographic nature and a strong development vision. If you are looking for a thriving market to invest in, Cancun is the place for you.
Green and Sustainable Investments
In recent times, there has been a marked shift towards sustainability and environmental awareness in the business world. In Cancun, this is especially evident in real estate. Green properties that integrate renewable energy systems and sustainable design principles are becoming incredibly popular. These properties not only reduce environmental impact, but can also generate significant long-term savings in terms of energy efficiency. For environmentally conscious investors, there are unique opportunities to invest in sustainable properties in Cancun that not only provide good returns, but also do their part to protect our planet.
Future Prospects for the Cancun Real Estate Market
Growth Projections and New Trends
Looking ahead, the real estate market in Cancun is expected to experience significant growth, with projections showing an increase of 4.14% from 2023 to 2028. This growth is driven by both internal and external factors, including steady population growth, favorable socioeconomic conditions, and increasing investor participation. In addition, new trends, such as the popularity of remote work among young adults, are changing market dynamics and creating new opportunities.
The Role of International Investment in Cancun's Real Estate Future
Cancun, famous for its natural beauty and heritage, attracts investors from all over the world. These foreign investors play a crucial role in the expansion and evolution of Cancun's real estate market. Whether financing new development projects, buying rental properties or investing in local businesses, they are contributing to the city's economic growth. It is clear that the future of Cancun's real estate market is tied not only to its local appeal, but also to its global appeal. This trend is expected to continue, fueling steady and significant growth for years to come.